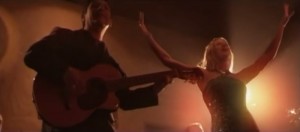 If there's one thing to remember about Deep Obsession it's this: their first three singles went to number one, and they are one of three New Zealand artists to have three number-one singles (the other two being Mr Lee Grant and John Rowles in the 1960s and '70s).
But their glory days were in the late '90s. By the early 2000s the group was in a state of flux. This song sees only one of the Deep Obsession singers, Zara Clarke, and she's teamed up with Latin-Pacific entertainers Kantuta.
"I Am" was the final Deep Obsession song to be funded. It didn't chart. It's a pretty average dance-pop song that sounds like it hadn't dealt with the new millennium and is still living in the '90s.
The video is set in a dark night club where Zara and Kantuta are performing on stage. It's a dark and stormy night outside and a young couple take refuge in the bar. People dance to the song, the couple canoodles and that's about it.
It's all very… ordinary. I miss the madness of the earlier Deep Obsession videos. The ice princesses of "Cold", the futuristic fishtanks in "One and Only", the parallel party universe of "You Got the Feeling", even the hospital drama of "Miracles". Instead Deep Obsession go out with the very unremarkable world of "I Am".
Best bit: the way the editing makes it look like everyone on stage is smiling benevolently at the canoodling couple.
Director: Ivan Slavov
Ngā Taonga Sound & Vision
Next… walking the line.