The New Zealand Music Video Awards were an annual awards presentation held as part of the Wellington Fringe Film Festival. The awards were initially sponsored by production company Flying Fish and later by Kodak.
The Ngā Taonga Sound & Vision has a collection of compilation tapes that seem to include all the videos entered each year. From that, a short list of finalists was announced. From the short list, awards were presented in five categories: Best Editor, Best DOP, the Knack Award for most innovative film made on a low budget, the Runner Up and the Best Director/Video. In later years, an award for animation was also presented, as well as special commendations.
At this stage, this is all the information I've been able to find online, most of which has come from the Ngā Taonga Sound & Vision. It varies from year to year.
I don't know if there were any awards presentations held earlier than 1990 (I've found a suggestion that they may have started along with the Fringe Film Festival in 1988), and I don't know if there were any awards held later than 2007. The Flying Fish sponsorship seems to have ended in 2000. In 2003 the awards were rebranded as the Kodak Music Clip Awards (in olden times, music videos were called "film clips" or "clips") and ran until 2007. I don't think there were any awards after that. The Wellington Fringe Film Festival seems to have also ended around this time.
If you have any information about the NZ Music Video awards, I want to hear from you! Leave a comment below or email me at robyn.gallagher@gmail.com.
1990 – Flying Fish New Zealand Music Video Awards
In association with the 3rd Wellington Fringe Film Festival
Sunday 15 July 1990, Paisley Park, Wellington
1991 – Flying Fish New Zealand Music Video Awards
In association with the 4th Wellington Fringe Film Festival
Saturday 13 July, The Carpark, Wellington
1992 – Flying Fish New Zealand Music Video Awards
In association with the 5th Wellington Fringe Film Festival
Winners (incomplete)
"Outer Space" (The 3Ds)
Best Video: "Wildebeast a Gogo" (Bilge Festival)
1993 – Flying Fish New Zealand Music Video Awards
In association with the 6th Wellington Fringe Film Festival
Best DOP: Simon Baumfield "Fatally Cool" (Maree Sheehan)
Best Editor: Jonathon Venz "I Only Said" (Shihad)
3rd Runner Up: Nigel Streeter "I Only Said" (Shihad)
2nd Runner Up: Josh Frizzell "Fatally Cool" (Maree Sheehan)
Winner: Fane Flaws "Beautiful Things" (The Front Lawn)
1994 – Flying Fish New Zealand Music Video Awards
In association with the 7th Wellington Fringe Film Festival
July 1994
Best DOP: Darryl Ward "Stations" (Shihad)
Best Editor: James Schoning "Can't Get Enough" (Supergroove)
Knack Award: James Bell "Faster Hooves" (Head Like a Hole)
Runner Up: Joe Lonie "Can't Get Enough" (Supergroove)
Best Video: Josh Frizzell "System Virtue" (Emma Paki)
1995 – Flying Fish New Zealand Music Video Awards
In association with the 8th Wellington Fringe Film Festival
1996 – Flying Fish New Zealand Music Video Awards
In association with the 9th Wellington Fringe Film Festival
1997 – Flying Fish New Zealand Music Video Awards
In association with the 10th Wellington Fringe Film Festival
1998 – Flying Fish New Zealand Music Video Awards
In association with the 11th Wellington Fringe Film Festival
Best DOP: "Scene III" (Che Fu)
Best Editor: "Inject Me" (Strawpeople)
Knack Award: "Keith" (Head Like A Hole)
Runner Up: "Scene III" (Che Fu)
Best Video: "Wish it all Away" (Eye TV)
1999 – Flying Fish New Zealand Music Video Awards
In association with the 12th Wellington Fringe Film Festival
Best DOP: "Sub-Cranium Feeling" (King Kapisi)
Best Editor: "Wait and See" (Shihad)
Knack Award: "Wet Rubber" Head Like A Hole
Runner Up: "Wait and See" (Shihad)
Best Video: "Sub-Cranium Feeling" (King Kapisi)
2000 – Flying Fish New Zealand Music Video Awards
In association with the 13th Wellington Fringe Film Festival
2001 – The New Zealand Music Video Awards
In association with the 14th Wellington Fringe Film Festival
Incomplete list:
Best Cinematography: Aaron Morton
Knack Award: "Keep on Pushing" (The Black Seeds)
2002 – The New Zealand Music Video Awards
In association with the 16th Wellington Fringe Film Festival
Best Editor: Sam Tozer "The Bromley East Roller" (Salmonella Dub)
Best DOP: Chris Matthews "Hey Son" (The Black Seeds)
Knack Award: Richard Hobbs "Red Rubicon" (Cloudboy)
Special Award: Wade Shotter and Jamie Dower "Better Days" (Tadpole)
Runner Up: Chris Graham "Hello Dub Pie" (Rhombus)
Best video: Joe Lonie "Place to Be" (Goodshirt)
2003 – Kodak Music Clip Awards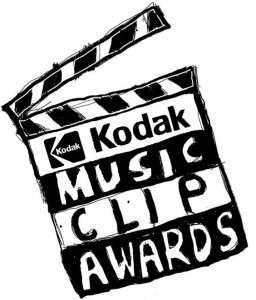 In association with the 16th Wellington Fringe Film Festival
13 July 2003, Bar Bodega, Wellington
Best DOP: Crighton Bone "Watching You" (Ill Semantics)
Best Editor: "Verbally Decapitating" (DJ Logikal)
Special Commendation for Animation: Paul Herschell "Bee-Bo" (Audio Sauce)
The Knack Award: Richard Bell "Let Me Die a Woman" (Phoenix Foundation)
Runner Up: Joe Lonie "Green" (Goodshirt)
Best Director: Edward Davis "Don't" (Gramsci with Anika Moa)
2004 – Kodak Music Clip Awards
In association with the 17th Wellington Fringe Film Festival
9 July 2004, Bar Bodega, Wellington
Best DOP: Duncan Cole "Sweet As Bro" (No Artificial Colours)
Best Editor: Chris Graham "Stand Up" (Scribe)
Best Animation: Paul Herschell "I Love Lo-Fi" (Flash Harry)
Knack Award: Richard Bell "Gone Fishing" (Phoenix Foundation)
Special commendation: Mark Trethewey and Shane Mason "Fools Love" (Misfits of Science)
Runner Up: Wade Shotter "Tour of Outer Space" (Rhombus)
Best Video: Chris Graham "Stand Up" (Scribe)
2005 – Kodak Music Clip Awards
In association with the 18th Wellington Fringe Film Festival
10 July 2005, Bar Bodega, Wellington
Best DOP: Ginny Loane "Fiji Baby" (Goodshirt)
Best Editor: Cameron Crawford "Stop the Music" (P-Money)
Best Animation: Matt Pitt & Lloyd Bapista "Boundaries" (Rhian Sheehan)
The Knack Award: Paul Sparkles "Supersiesmic Girl" (Sparky's Cosmic Journey)
Runner Up: Adam Jones "Go" (Steriogram)
Best Director: Ed Davis "Hear the People" (The Exiles)
2006 – Kodak Music Clip Awards
In association with the 19th Wellington Fringe Film Festival
15 July 2006, Bar Bodega, Wellington
Best DOP: Richard Harling "Fuji" (Minuit)
Best DOP (special mention): John Billington "Shut Eye" (Alex Wotton/Arkitype)
Best Editor: Daniel Strang "Fuji" (Minuit)
Best Editor (special mention): Luke Savage "Slightest Shift" (Phoenix Foundation)
Best Animation: Mark Williams "Who's Your Daddy?" (Agent Alvin)
The Knack Award: Derek Thomson "Songs About Drinkin' & Dyin'" (The Shot Band)
Runner Up: Mark Trethewey "Bad Man" (Sola Rosa)
Best Director: Jeremy Mansford, Preston McNeil "Mana's Bounce" (Recloose)
2007 – Kodak Music Clip Awards
In association with the 20th Wellington Fringe Film Festival
14 July 2007, San Fransisco Bathhouse, Wellington
Best Editor: Mark Trethewey "What Happened to Yesterday?" (Fast Crew)
Best DOP: Ginny Loane "Beautiful Haze" (SJD)
Best Animation: Ed Davis "The Answer" (The Black Seeds)
Knack Award: Anastassia Smimova "Karma Killer" (The Sagittarian)
Best Video: Mark Trethewey "What Happened to Yesterday?" (Fast Crew)