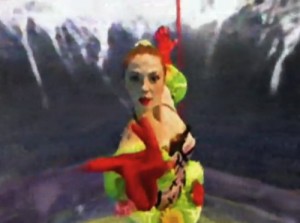 Neither Paul McLaney (aka Gramsci) nor Anika Moa feature in this video. Instead it's a partially animated adventure involve a woman walking on a tightrope, a man holding the rope tight, and a sweeping panorama.
According the profile at Ngā Taonga Sound & Vision, the "Don't" video was filmed in an old church, using blue tarpaulins for a DIY chroma-key background (that didn't even work properly), with the actress playing the showgirl doing all her tightrope walking on the floor.
The background is an animated fantasy version of Wellington, tall buildings, the wide harbour but also unfamiliar snow-capped peaks. As the camera swoops around the tightrope walker, the landscape changes. NZ On Screen also notes that the background was created from still images taken by director Ed Davis.
The background and highwire drama changes and intensifies with the song, an uneasy duet. The tightrope walker does flips and tricks which – even though it's all fake – still create a splendid tension.
And with all that tension set up, it seems inevitable that the tightrope walker would fall. She does, whooshing through an ever-changing landscape, into the arms of the man who was holding her rope. Well, that's a happy ending.
"Don't" won best video at the 2003 New Zealand Music Video Awards.
Best bit: the artistic balancing, impressive even on the flat.
Director: Ed Davis
Ngā Taonga Sound & Vision
Next… wake up, sheep and people.