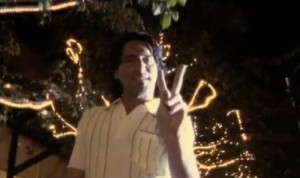 Jordan Luck takes to the mean streets of downtown Auckland for a solo promo. Starting from a stark inner-city apartment, he heads down to the vacinity of Albert Street, including a brief visit to the remains of dirty old Finance Plaza.
The Andrew Moore-directed video takes Jordan down to Queen Street, outside the picturesque facade of the old BNZ building, back to Albert Street for the lit-up trees outside the Stamford Plaza, down to the wharves for some pretty reflections, then finally up to K Road to be amongst the punks and Christians.
I appreciate this video more on a personal level. It was shot in the very first year I moved up to Auckland, when I spent a lot of time mooching around these very streets. I like that it exists as a record of Auckland in 1997, just one man and the city streets.
Best bit: the reminder that in the '90s, sometimes downtown Auckland was really quiet and empty at night.
Director: Andrew Moore
Ngā Taonga Sound & Vision
Next… fear of the carnies.