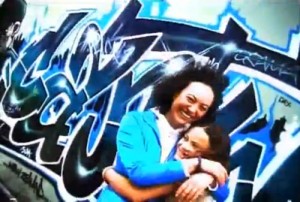 Much of the "What the Funk" video was filmed at the Aotearoa Hip Hop Summit. This was an annual event that took place in the late '90s and early '00s, a festival/symposium/general fun time that brought together New Zealand's hip hop community.
An feature of the event was the graffiti jam, where top graffiti artists from New Zealand and internationally did their best to walls of plywood. And that's what director (and the man behind Dub Asylum) Peter McLennan has captured on Super 8.
It's shot in an urgent style, with the camera rushing around the area, capturing the artists at work, adding final touches with cans or even brushes. It captures New Zealand's graffiti art scene from the early '90s, back when it was slowly becoming more mainstream.
The crowds are there too, busily checking out the works in progress. But the best spotting in the crowd is bFM's 'b' mascot, who has been thoroughly tagged.
The song's singer, Sandy Mill, is shown at a different location – performing in front of the old garage doors around the back of St Kevin's Arcade. The building is covered with plenty of graffiti, so it fits right in with the rest of the video, though it's less slick than the stuff on display down the hill at the summit.
Sandy is sometimes joined by a girl (her daughter, I assume) and the who have a happy hug-dance. And in a way that's more compelling than all the top graffiti artists.
Best bit: the little kid who runs around a tarpaulin laid on on the ground, just because.
Director: Peter McLennan
Next… a harbour cruise.