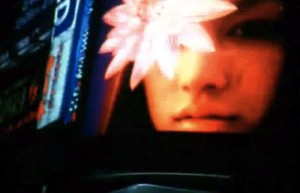 "R U Ready" is filmed Japan, shot by Mr Dub Asylum himself, Peter McLennan, on Super 8 film. This isn't the first low budget video shot in Japan that we've seen. Indeed, previous NZOA-funded videos shot in the land of the rising sun have been "Milestone" by the Malchicks and "Kuru" by Cinema, but each of these videos does it differently.
"R U Ready" embraces the hustle and bustle of urban Japan. The camera observes the busy Tokyo streets from a distance, but also gets right among it. It's as if some moments of orientation and reflection are needed before we can dive into the crowd.
From the streets, we go into the metro, through the busy train station and onto a train as it speeds through the urban landscape. The sun sets and it's time to explore the city, all lit up with giant advertising signs. Even an ad for an appliance retailer feels sexy and exotic when it's a flashing neon sign, seen at night in a beautiful and mysterious foreign city.
The song, with its deep beats and Bobbylon's playful vocals, seems nicely matched to the ever changing cityscapes of Japan. By the end of the video, the footage starts to get layered and chopped up and it's as if the city is taking over, forcing as much of itself into the video as it can manage.
Best bit: the little kid scrambling up the temple steps.
Director: Peter McLennan
Next… the androids return to their cells.