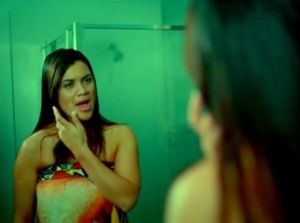 The sweet soul song "You Are" was the first single of Sara-Jane Auva'a's debut album, which went on to win her Best Pacific Female Artist Award at the inaugural Pacific Music Awards (Tha Feelstyle took the male category).
The video is pretty straight forward. We see Sara-Jane in various settings – a music studio, blobbing out on her couch, in a car, in a steamy bathroom, and moping around in bed (she has the name bed cover as me, which is thrilling). Something is bothering her – a boy, obviously – which is causing her to be all a bit miserable. The trouble is, she spends a bit too much of the video looking glum – so much so that the video starts to feel like a downer.
Hey, maybe a visit to the Otara markets will cheer up Sara-Jane! Except everywhere she walks she sees happy young couples, a cruel reminder of she love she's lost. Normally when we see the Otara markets in a music video, they're shot as they are – a celebration of the South Auckland Pacific community. But this time, the markets are a backdrop for orchestrated drama. The action only focuses on a selection number of good-looking actors playing the role of market visitors, all shot in the golden morning sun.
"You Are" has a rather old-fashioned sound to it, especially when you consider that at the time the charts were full of exciting songs like Rihanna's saucy "Pon de Replay" and the Pussycat Dolls' assertive "Don't Cha". The video is well made and nice enough, but like the song, it just doesn't feel like it's making much of an effort.
Best bit: the guy at the market juggling fruit to impress his sweetie.
Director: Ivan Slavov
Ngā Taonga Sound & Vision
Next… a biker gang.