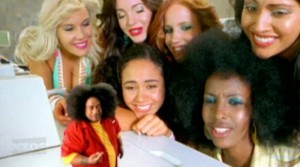 "Swing" is the dancefloor gift that just keeps on giving. Savage's first solo single was released in 2005, but he enjoyed American success in 2008 thanks to a remixed version of "Swing" featuring Soulja Boy. Then in 2013 "Swing" topped the Australian charts via an EDM remix by producer Joel Fletcher.
But back in 2005 it was a mini Savage in a laundrette surrounded by a bunch of ladies in hot pants putting a lot of effort into their weekly washing. This video surely took some inspiration from the iconic 1985 Levi's commercial, featuring some very DIY stonewash jeans.
At the time this video came out, I wrote a review of it for NZmusic.com declaring it was terribly terribly sexist because of all the girls in hot pants and excessive booty shaking. The director, Sophie Findlay, wrote me a really nice email saying she was "definitely going more for sexy", and that because it was a booty song "the record company are going to insist on girls, but I did my best to create a situation in the video where they were being revered by Savage, and in control."
And now I pretty much agree with her. As part of the 5000 Ways experience, I have seen far worse. "Swing" lets the laundry girls be characters, not just anonymous dancers or body parts. And when you compare it to the video of a contemporary booty song like "Wiggle" by Mr Derulo, "Swing" seems a lot more innocent and female focused.
The laundry setting takes two forms. There's the bright pastel world of honey-I-shrunk-the-Savage and the laundry ladies. Then there's a darker version with full-size Savage, his Deceptikonz pals and the washer women, all grinding on it like it's a night club. This sort of stuff never happened at the Wash Inn in Mt Eden.
A twist of sorts comes at the end of the video when it's revealed that it was all a dream – Savage had fallen asleep while waiting for his laundry. And he'd been cuddling a flagon of moonshine as he slept – an uncomfortable way of promoting his next single and/or debut album.
The curious thing is, the song didn't rely on this video for its 2008 or 2013 revivals. In 2008 it was part of the Knocked Up soundtrack, and in 2013 a new video was used featuring some people having a house party. But you know what? Seth Rogen doing daggy dancing or some Australians partying in an abandoned house just aren't having as much fun as Savage was down at his local laundry.
Best bit: Mareko's perfect 1960s flip hairdo.
Director: Sophie Findlay
Ngā Taonga Sound & Vision
Next… lack of words.