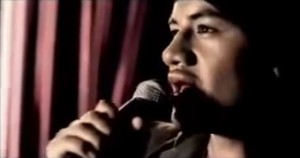 Welcome to New Zealand, 2004. Somehow Feelers videos always seem like they're from the late '90s and Mint Chicks videos always feel like it's 2007, but this video is like a direct portal into 2004.
Five years after New Zealand had melded talented shows and reality TV together as the Popstars series, the format had bounced around the world and been improved, expanded and fine-tuned into the Idol franchise. Now it was our turn, again.
When the debut single of NZ Idol winner Ben Lummis reached number one in May 2004, it kicked off a particularly good run for New Zealand music. In the 26 weeks to follow, a New Zealand single held the number one spot for 21 of those weeks. But this lucky streak soon ended and from late 2005 to early 2007, the few New Zealand songs to reach number one were – like "They Can't Take That Away" – reality show winners' singles.
The song is a really generic Idol winner's single, with highly self-conscious lyrics using the fleeting nature of reality show fame as a metaphor for love. "Don't know if I'll get there cos it could change in 15 minutes." Oh look, an Andy Warhol reference.
The "They Can't Take That Away" video looks like it was hastily produced on a reasonably low budget, no doubt needing to get the video out as quickly as possible. We meet Ben as he drives into a bleak underground carpark. On screen, only sinister things happen in parking buildings. Is there going to be a "Bad" style show down? Nah, he's just walking out of the car park. Ben goes on one of those music video strolls that don't make any sense geographically but look great.
But where is this wander taking him? Why, to a gig. Soon he's on stage, performing in front of a group of screaming fans. It's a typical music video audience – we never see the crowd more than four people deep and they're always waving their hands in the air. People don't do that in real life because their arms get tired.
Ben isn't an especially charismatic performer, and coupled with the melancholic tone of the song, there's a risk that the whole video could be a giant downer. The video works hard to add some spark, but there's only so many shots of screaming teens you can add before it starts to feel a bit staged.
"They Can't Take That Away" was at number one for seven weeks. That's pretty impressive, especially when you consider that with TrueBliss and The X Factor winner Jackie Thomas only managed two weeks each with their debut singles. Ben's album also made it to number one, but he didn't bother the charts after that. Basically, the Idol dream that New Zealanders had seen play out with Kelly Clarkson and Guy Sebastian wasn't happening in New Zealand.
But was it all over for Lummis? The internets suggest that as well as being involved with churchy work, he's still performing music. A few years ago I was passing through Sky City and saw him singing in one of the bars there. It was actually encouraging. The song lyrics may have been strangely accurate with the prediction of short-term fame, but when there aren't many people in New Zealand who can make a living off music, if Ben Lummis is getting gigs, good on him.
Best bit: the teen girls trying to fake fangirling.
Next… the golden age.