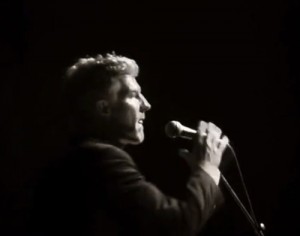 This is a Tim Finn video but the star ends up being Mareea Paterson, the bass player in his touring band, the Dirty Creatures. The video features around the band's 2002 tour, and a performance of at the Civic Wintergarden (and the web tells me this gig took place on 19 October 2002). We see a lot of Tim and the band on stage, but there's also lots of footage of them on the road, the glamorous life of loading up the station wagon with suitcases, before heading to the next airport.
Like a lot of recent Tim Finn videos, this focuses on Tim performing. It seems he's most comfortable when he's Tim Finn, the showman on a stage, rather than awkwardly trying to fit into a music video narrative. And like the last performance-based two videos ("I'll Never Know" and "What You've Done"), this video is also shot in black and white. It's a good style choice. It avoids the video falling into the "zany high jinks on the road" mould, and gives it a bit of style.
But yeah, the video totally hearts Mareea (who we'll later come across in her solo project, Friends From Sweden). She's easily the most exotic member of the Dirty Creatures, an otherwise unremarkable touring band of quality musos. So the video has latched onto this cool chick with cropped hair, tattoos and cigarettes.
She kinds of outshines him in the "on the road" segments, but when the band is on stage, there's no risk of that. Tim is in his element, working the stage like the pro he is.
The video ends with a comedy postscript. Tim dances a merry jig on what looks like a solid stone ledge at the Wintergarden. But this is the Civic. It was built during the Depression. With the exception of modern strengthening, much of the solid-looking parts of the interior are just made of cheap plaster and cannot support the weight of a popstar. Tim's foot goes through, damaging this Category I listed heritage building.
Best bit: the road sign pointing to Te Awamutu, just in case you'd forgotten.
Director: Andrew Morton
Next… the age of the winery tour continues.