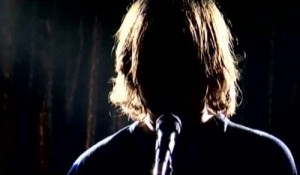 This is a fun adventure. "Life will be the Same" is a dark, moody song and the video goes for a similar tone. As a single from their debut album "The Alphabetchadupa", it continues to have a more serious, less fun feeling than the songs from their earlier EPs.
Things kick off with Betchadupa playing in a dark club. Initially the band are playing in shadows, with only a backlight illuminating Liam's hair. The stage lights slowly grow brighter and we're brought out of the uneasy darkness into a familiar rock scene.
After about a minute we meet the subplot, taking a leaf out of the big book of urban legends. There's a lone hitch-hiker out thumbing a ride late at night. Eventually he's picked up by Liam. He happily slings his bag in the backseat but soon he gets a little ticked off because Liam will not talk to him. Actually, I've never picked up a hitch-hiker because I'm terrified of having to make conversation with a stranger, so I feel him.
Later Liam stops the car in the middle of nowhere to have a wee… and then mysteriously disappears, leaving the hitch-hiker alone. The hitcher gives up waiting and drives off, but ends up being pulled over by a cop. He should have nothing to fear, right? Wrong. The cop (illegally!) searches the car and discovers what we assume to be Liam's dismembered body in the hitch-hiker's bag. Whoa! The hitcher is promptly arrested.
But then just to really mess with our minds, the hitch-hiker shows up in the audience of the shadowy Betchadupa show. Is he on parole already? No. This is some non-linear narrative for you. He leaves the club, goes out onto the street and thumbs a ride. And we know exactly what's going to happen next.
Best bit: the clever fade between Liam's dark face and a car's headlights, briefly giving him a creepy "Total Eclipse of the Heart" appearance.
Note: The video is geoblocked to viewers in New Zealand and Germany, but everyone else should be able to view it. So if you can't view the video, here's a clip of the band performing the song live on "Space".
Next… a stroll down Cuba Street.