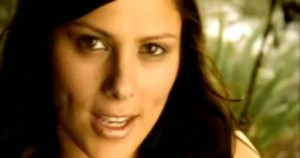 "Falling in Love Again" is Anika Moa's highest-equal charting single, with both it and debut "Youthful" reaching number five. It's not hard to see why. It's a sweet romantic song about falling in love with an old boyfriend (or indeed a girlfriend)… after having previously been a bit of a ho. The song was cowritten with James Reid of the Feelers, and was included on the soundtrack of the John Cusack/Catherine Zeta Jones romantic comedy "America's Sweethearts".
The video sets Anika in a world populated with lots of cute boys. Everywhere she goes, even in remote coastal New Zealand, eventually there's a model-like boy giving her the gladeye, and she him. There's a taxi driver (as sharp-eyed reader Lisa points out, he's played by Antony Starr), a fisherman, an outrigger canoeist, a cyclist, and a guy who just popped down to the shops for some milk.
And weirdly enough, this doesn't seem too unrealistic. With the exception of the taxi driver, these occupations and pastimes are not uncommon in the lives of fit young dudes. In every case, there are slow glances and flirty smiles, with the milk boy also getting a kiss on the cheek.
While the taxi driver seems to be driving around a city street (and in a left-hand-drive car), most of the video takes place well away from urban areas, on a sun-drenched beach, a green river, a pleasingly damp rugby field and a small town. I feel like this is a trope in New Zealand music videos – the video as a travelogue, highlighting the parts of New Zealand that may appeal to tourists. But where, I wonder, would tourists find the part of New Zealand occupied by flirty girls and cute boys?
Note: In 2005 Anika talked about the making of this video in a C4 Homegrown profile. She says the American label was heavily involved and flew over a director to keep an eye on things, ensuring the video was full of the aforementioned hot guys. The American also demanded that Anika be filmed from angles to make her look as skinny as possible. Ugh. Watch it here, in part three. Cheers to to Vicky for finding this clip.
Best bit: the classic New Zealand dairy, complete with a wall of red post office boxes.
Director: Justin Pemberton
Ngā Taonga Sound & Vision
Next… giz a chip.