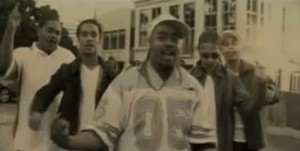 "Nesian style is here / Ladies beware." And with that declaration/threat, Nesian Mystik arrive on the scene, determined to change things.
New Zealand had attempted boy bands before, most successfully with Purest Form; least successfully with En Masse (and little in between), but Nesian Mystik did things differently. They wrote their own songs, they played instruments and did rapping as well as sweet harmonies. And – most importantly – they managed to create their own sound – a South Pacific pop-soul-hip-hop-R&B mash-up.
The group had come together at Western Springs College and were in the 2000 Smokefreerockquest finals along with Evermore and the guys of Die! Die! Die! And then there they were, a year later, with their first single.
The video is mostly set in downtown Auckland, in a canyon of skyscrapers and urbanity. The boys spend most of the video hanging out on top of a parking building, with cool cars and hot chicks. It might have just been a fantasy for the purposes of the music video, but they were laying down some pretty bold ground rules. These guys were ready for some next-level pop stardom.
We also see the six-piece group hanging out around a bonfire in a suburban/industrial part of Auckland. That's a bit of a trope in New Zealand hip hop videos – the ordinary suburban Auckland street. And it's interesting what they're doing with the video – posing, cars, women – all standard cliches from hip hop videos. But because the song is so sweet and the group seem like really nice guys, they get away with it. I mean, who wouldn't want to party with Nesian Mystik on top of a car park?
Best bit: the breakdancer who spins around then flops down flat.
Next… the importance of being glam.