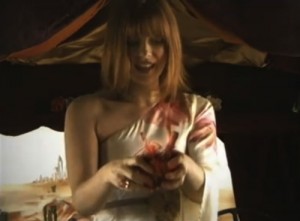 "Baby's Been Bad" is a cheerful ska number, but like the group's previous video "Golden Dawn", this one gets a bit weird. It's like Goldenhorse are slightly afraid of the straight pop songs they've written and have to do something to warp them a little.
This time the video gets a bit sci-fi and a bit surreal. Starting with a dystopian, black and white world where Geoff Goldenhorse climbs into a giant drawer which starts to transport him somewhere. We also meet Kirsten Goldenhorse who's in a colourful caravan in the desert, mixing up crazy potions, involving a human heart, paper dolls and pasta.
It seems Geoff is visiting the desert to put a mysterious canister down an equally mysterious metal tube. But is he going to go back to the dystopian world? No, he is drawn to the caravan atop the sand dune.
The video doesn't quite work for me. The song feels a bit weak from all its repetition and so the video seems like an attempt to distract from that. I'd be much more impressed if Goldenhorse could just make a straight video for their pop songs.
Best bit: the most important ingredient – a house made of macaroni.
Director: Marek Sumich
Next… ladies, beware.