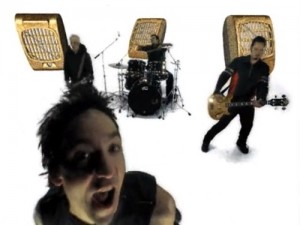 The video for "The General Electric" takes its inspiration from the cover of the album with the same name. The video even starts with a literal portrayal of the CD. A young woman walks into a record store and browses a rack of CDs, an activity that now feels oddly old fashioned.
She comes across the new Shihad CD, opens it and finds the disc itself in the case, which surely means some employee is going to get in trouble for not storing the disc behind the counter. It turns out to be a magic CD which transports the young woman into a stark white world filled with Shihad and an army of amps.
There's a bit of Jon performing against evening scenes of downtown Sydney, but most of video is the band surrounded by giant, pulsating amps, probably inspired by the stockroom scene in "The Matrix". My 1999 memory of the video was one of really slick CGI animation for the amps, but by today's standards, it looks chunky and cheap.
But beyond the animation, the video serves as a good portrayal of Shihad's energy. There's no mad scientist plot, just a reasonably plain background for the group to do their thing.
Best bit: Jon looks down on the trapped visitor in four-sided Shihad box.
Note: This video was previously on Shihad's Daily Motion account, but that's gone. It can now only be found on MTV UK.
Director: Paul Butler
Ngā Taonga Sound & Vision
Bonus: There's an alternate video for "The General Electric". It's directed by Reuben Sutherland who also did the previous two videos for the group. The video goes for a mental asylum theme and rounds out his trilogy of the similar "Wait and See" and "My Mind's Sedate". And with spiky hair, glasses and a wide-collar shirt, Jon strangely resembles comedian Sue Perkins.
Next… a trip to the post office.