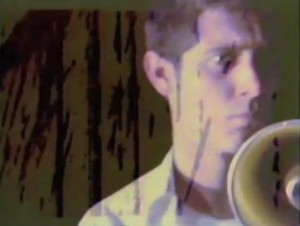 "Winter" feels cold. It's a minimalist song dominated by repetitive bursts of a clear, gangly guitar. The video, directed by Paul Swadel, picks up on that and creates a scratchy, moody world.
The band play the song in a dark space. This footage is mixed with scratchy scribblings, which look like they were influenced by the ground-breaking opening titles of 1995 film "Seven". We also see flashes of binary code, like a low-fi precursor of "The Matrix".
I'm trying to figure out this video. It doesn't quite feel like a traditional music video, made to sell, sell, sell the song. It's seems more like an artistic work that aims to equal the song.
I don't feel like I can properly enjoy this video on my laptop. It just seems a little underwhelming on YouTube. It should be projected onto a big screen in a dark room, with a bunch of people who don't need to google "post rock".
Best bit: the lead singer's megaphone microphone.
Next… a bleak dystopian future.