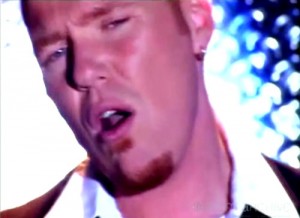 Catch-up time: this was missing from one of the NZOA databases that I used, but fortunately I found it in another.
Matty J is a determined man. "The girl will be mine," he asserts. But which girl? This video has a United Nations of hotties for him to pick.
Directed by Mark Tierney, the video is simple but cool and urban. Wearing a shirt with an extremely pointy collar, Matty J is caught in a spotlight as he stands in front of a wall made from non-step steel, just in case he wanted to try out his Spider-Man movies.
Also standing by the non-slip wall is a number of women, each dancing to the song's cool grooves, each giving the camera seductive looks. It's almost like they're auditioning to be "the girl", except all the women have a bit of a don't-give-a-dam look.
Just in case things were getting a little claustrophobic, Matty J ventures outside, hanging out in front of the old Central Post Office, where only the pigeons understand his angst. He also celebrates being outdoors by doing a seduction rap.
I like that this video has taken a low budget and made something quite styley out of it, including magically tranforming Queen Street into a much cooler urban area.
Best bit: Matty J's dramatic grabs at the camera.
Director: Mark Tierney
Ngā Taonga Sound & Vision