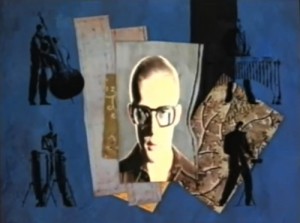 Aw yeah. "Lady J" is a very cool song and the video is the dopeness. Compared to the more polite album version, the video version of "Lady J" has more of a low end, with a rap added courtesy of Sonny Sagala (aka Dei Hamo). That detail lifts the song, taking it a step away from its melodic jazz roots and making it the sort of tune that the Ice TV gang would gush over.
The spunky video is directed by Josh Frizzell and takes on a kind of scrapbook look. Shapes containing Nathan, Sonny and other band members slowly glide or fragment across the screen. It looks a bit like a DVD menu screen from the '00s, but there's something that makes it just that bit more sophisticated.
Nathan looks quite different to his usual appearance. He has closely shaven hair and is wearing tinted spectacles. It somehow makes him look much older the young man of 22 he was – but perhaps this was intended. And it was something that hugely appealed to me at age 19 – a video evoking a cool, sophisticated world that seemed out of reach for me in from suburban Hamilton.
In a way, a trick is being played. The video is taking a jazz track and presenting it in such a way that it crossed over to the world of teen pop, like a gateway drug to a cooler world of music.
Best bit: the side silhouette of Nathan's trousers. Good cut.
Bonus: here's Nathan in 1995 talking about his album "Shift Left" from TV3's music show "Frenzy".
Director: Josh Frizzell
Ngā Taonga Sound & Vision