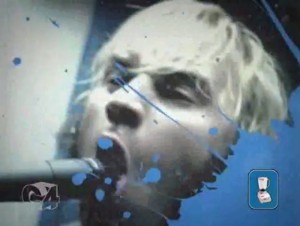 Japan loved the D4 and the D4 loved Japan so they wrote a song about one of their favourite social beverages, the sake bomb. There's even a version with Japanese lyrics.
The 105-second song is basically about going out and getting pissed in Tokyo, but the video avoids a Japanese setting and just puts the band in a small room, whereupon they rock out. The video had various layers of animation, dripping paint, scribbles, Japanese characters, and a cartoon D4 enjoying a drink.
There have been various music videos shot in Japan, but they tend to consist of footage taken out on the streets, like a wide-eyed tourist amazed at how busy and cool Tokyo is. While "Sake Bomb" was (probably) filmed in New Zealand, it has the energy of a dumb-arse night out in Tokyo.
Best bit: the poster of the Virgin Mary, just keeping an eye over things.
Director: Wade Shotter
Nga Taonga Sound & Vision
Next… inside the anechoic chamber.