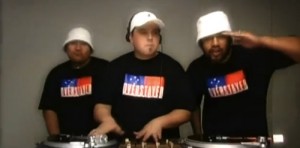 There are two versions of the "Second Migration" video. I'm not sure if the second video had NZ On Air funding, so I'll look at both of them.
The first version is basic as. King Kapisi, Tha Feelstyle and DJ Raw stand behind a desk with turntables and a mixer on it. The entire Overstayer Crew is in full effect – DJ Raw DJs, King Kapisi and The Feelstyle rap. It looks like it was filmed in someone's garage, with some ye olde film scratches digitally added to give the video a bit of texture.
The trio are all wearing t-shirts from King Kapisi's Overstayer range of streetwear. Their uniform look is rounded out by bright white hats. Occasionally there's a postcard-like photo of a Pacific Island (matching the lyrical themes), but most of the video is just three men in a room. Ok.
The alternate version kicks things up a notch. It's like when a TV show comes back for a new series with bigger, bolder opening titles. The original footage of the trio is used, but slotted into a bold computer animated world.
The video begins with scenes of tropical islands, and later switches to city scenes. The two locations both look appealing and sinister, which nicely works as a metaphor for the experience of migration.
The basic footage from the first version also finds itself playing on huge screens in the bustling metropolis. It's like these guys have come to this bold new country and promptly managed to take it over. Which is kind of what King Kapisi had done musically.
Hey, so maybe the first version of the video represents the newly arrived migrants, operating with basics, while the second version is the migrants having fully embraced their new home, taking full advantage of all it has to offer.
Best bit: DJ Raw getting really meta by scratching with King Kapisi's "Reverse Resistence" LP.
Alternate version
Ngā Taonga Sound & Vision – version one
Ngā Taonga Sound & Vision – version two
Next… a hearty headbang.