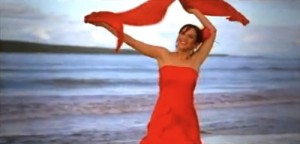 Marvey King was the former stage name of singer-songwriter Tanya Horo, but in the '00s she was arguably better known for her ongoing role as "Miss Lucy" the know-it-all travel nerd star of a series of ads for a local travel agent.
Back in the world of Marvy, "Rosary" is a sweet acoustic pop song, and the video is exactly what you'd expect from an up-and-coming young singer being launched upon the world. We meet Marvey in bed, clad in classic striped pyjamas. She wakes up with thick eyeliner, still perfectly applied. If this were the real world and not a music video, she'd actually look like Alice Cooper after sleeping in that much eye makeup.
There seems to be someone missing from the bed as Marvey runs her hand over the satin sheets. But she's only been sleeping with one pillow, so whoever is missing isn't a regular in that bed.
Suddenly things get a little surreal. Marvey still in bed but appears to be naked. Her duvet is pulled back to reveal she's wearing a glamourous red strapless gown. And, with a reference to "American Beauty", she's surrounded by red rose petals (but just a few).
This saucy Marvey gets the choruses, while the pyajama-clad Marvey has the verses. It comes across as a kind of duel, with Saucy Marvey making things difficult for Pyjama Marvey. The end of the video sees Pyjama Marvey demurely singing the chorus, as if she's realised – in a "Fight Club" style twist – that she is both Pyjama Marvey and Saucy Marvey.
In a way the video is a bit more fun than the song, but as YouTube commenter Pendarves1 says, it was "a great song that never made it big. Underated."
Best bit: the strangely erotic shot of a knife slicing through a strawberry.
Director: Tom Fowlie
Ngā Taonga Sound & Vision
Next… love on tour.