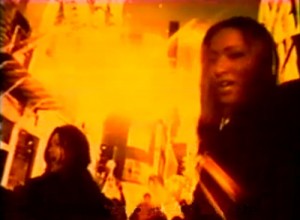 The copy of this video that's been uploaded to YouTube is an old VHS rip, with wobbly tracking lines and crackly sounds. But some how that adds to the atmosphere of the video.
"Show Me Heaven" is a sweet R&B groove, but the video is much more ambitious. Arriving at Vulcan Lane in a chauffeur-driven vintage car, Marina, Lavina and Maybelle step out to an adoring crowd, while tickertape rains down around them. With a couple of security guys keeping an eye on things, Ma-V-Elle totally own the scene, like Destiny's Child, Bananarama and the Supremes all rolled into one.
The song is a kiss-off to an unfaithful lover, with the staunch declaration that they will find someone else to "show me heaven". Could it be that the "someone else" is their loyal, adoring fans, a more reliable choice than a false-hearted lover?
Or is this a literal representation of Heaven? The video has a strong golden brown tint, which gives it a dreamlike feeling. Ma-V-Elle were just an up-and-coming girl group and this song only made it to 36 in the charts. But the video is a perfect example of "fake it till you make it". I'm happy to live in a heavenly world where Ma-V-Elle are pop mega stars.
Best bit: the massive deluge of tickertape confetti.
Director: Philip Peacocke
Ngā Taonga Sound & Vision
Next… so cheesy it needs crackers.