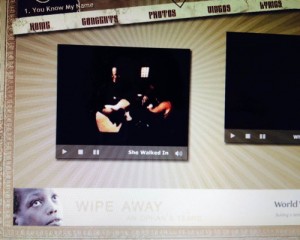 Detour are a Christian rock band, signed to Parachute Records. They have since changed their name to Detour180 to make it clear that they aren't just veering off to the side – it's a total 180 degree detour.
"She Walked In" sounds influenced by Creed, aiming for spiritual grandness. It seems like a love song, but then with talk of a "beautiful vessel", maybe they're talking about Mary. Or maybe it's just a polite way to describe a vadge.
The video is only available on the band's website and it's in a tiny little Flash player that can't be expanded to full screen. So I'm left looking at wee figures rocking out in a dark warehouse while a sad African orphan looks up from a World Vision ad underneath.
So, the band are playing in front of an audience that are doing a really good job of looking like an actual audience and not friends of the band roped into helping the video. But like most music video fake audiences, everyone has their hands in the air, waving like they just don't care. This is what I imagine Parachute was like in the early years.
At one point there's a shot of a blonde woman standing at the back of the audience. She doesn't really seem to be into the band. That would suck – if the subject of your love song didn't really like your band. But as it's so hard to see what's going on in the video, maybe the woman does end up down by the stage, waving her hands in air.
Best bit: the "Detour" road sign leading the way to the concert.
Note: the video was previously only available in a tiny format on the band's website, but it's now available on the Christian video site God Tube. Thanks, God Tube!
Director: Greg Riwai
Ngā Taonga Sound & Vision
Next… basketball in the museum car park.