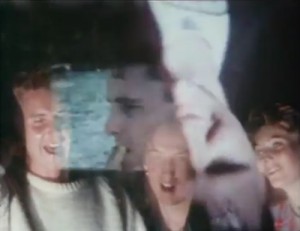 The continuing celebration of Flying Nun's 30th birthday, looking back at music videos made in the days before NZOA music video funding.
There's something really lovely about this video. It starts with the song – it's indeed a lovely song. Great guitar pop with sweet vocal layers and harmonies. The video, directed by Jed Town, is pretty much a perfect visualisation of the song.
The video is full of light and layers. As Big Ross and Little Ross sing the song, the image is layered with golden sparks, outdoor scenes and the band performning live.
The Roys look like they all like each other – and I mean really like each other – which just adds to the really nice spirit of the video. A lesser director would have gone "Alien! Let's have green spacemen in it!!!", but really, the song is more about love than it is about aliens, and the video shows this well.
Bird Nest Roys are one of those great Flying Nun bands that never quite got the success they deserved, but if this is the only visual remant of their time, it's a brilliant thing to be left with.