School assembly, a comforting sameness, a beardy trek, freaky friends at the club, on stage but not, and a wild road trip.
Adeaze "Broken Promises"
Adeaze bring their killer harmonies to "Broken Promises", a cautionary tale. I think the lyrics are all about examples of people who are waiting to establish a caring relationship before jumping into bed. But the lyrics seem to leap around a bit so the meaning isn't always clear. The video illustrates this using ordinary scenes shot in bullet-time – the camera explores the everyday.
But just when the song seems like it's going to be just another a romantic tale, Adeze flip it. They sing, "The moral of the song is we need more leaders, more role models" and it's revealed that they're on stage at a school assembly, using R&B to inspire the kids of Mangere College. It's huge surprise ending, but the placid reaction of the schoolkids shows that perhaps the message isn't so inspiring.
Director: Zac Blair
Nga Taonga Sound & Vision
Autozamm "5th Degree"
This was Autozamm's final funded video, and in many ways it's like all their other videos. They were never a hugely challenging group, and with that came a comforting sameness. If you saw them rocking out live at New Years, you'd know exactly what to expect.
In 2009 the group appeared on Cycle 1 of New Zealand's Next Top Model, where they filmed a music video with the models. It is as exactly as weird and low-budget as you'd expect NZNTM to produce.
Then in 2012, after being stung by a negative review from a Wellington music critic, they penned "The Review" to rage against their critic. Despite the emotionally immature subject matter, it ended up being one of Autozamm's catchiest tunes. It was to be their final release.
Director: Mikee Carpinter
Avalanche City "Ends in the Ocean"
"Ends in the Ocean" is default Avalanche City, looking like something out of the pages of Kinfolk magazine. So there's Dave Baxter playing the song on a picturesque beach, while a fellow beardy bloke toting a portable keyboard, treks through the wilderness, and experiences different weather before he eventually ends up at the beach. Wherein he probably take a pic and posts it to Instagram.
Director: Jefferton James
Barnaby Weir "Tarot Card Rock"
Oh, what have a we got here? "Tarot Card Rock" is like "Dancing in the Dark" crossed with "Common People" without ever reaching the emotional intensity those two songs achieve. It's a pretty bland song and the video attempts to weird it up by using the "freaky friends" treatment at Wellington's Mighty Mighty. Only these people looks like music video extras playing weird not actual freaks. But when the song is an unengaging as "Tarot Card Rock", it's hard to sell the idea that a bar full of pissed hipsters would genuinely be going off to it. In the end, it comes across like like any music video where a cast of dozens is attempting to look like they're genuinely enjoying the song.
Geoblocked for New Zealand, Australia, Mexico and the United States. Instead, here's a photo: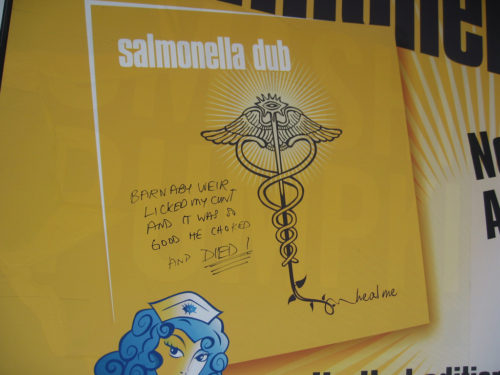 Director: Ella Liao
Brooke Fraser "Coachella"
I mean, New Zealand music is good and all, but why didn't anyone ever write an ode to the Big Day Out or Parachute? Instead Brooke sings of Coachella and a particularly memorable Fleet Foxes performance that made her realise her musical purpose in life.
There's no sign of the desert festival in this video. Instead Brooke and her band perform on a dark stage, in front of an old pipe organ. There's no role for the organ in "Coachella", but they have decorated with with a few glowing tealight candles. While Brooke is performing on a stage, there's no hint of there being a live audience — but there is, of course, an audience watching the video.
This is the last of Brooke Fraser's music videos, starting with "Better" in 2003. The one thing that can be said for her videos – she seems to have a singular vision of how she wants to be presented. She's never a case of Brooke being shoehorned into a music video director's image of her. She seems to be in control.
Note: As with a lot of Brooke Fraser videos, this one is blocked to viewers in New Zealand.
Director: Shae Sterling
Nga Taonga Sound & Vision
Computers Want Me Dead "Letters & Numbers"
Computers Want Me Dead are visually absent, so "Letters and Numbers" follows two young women who are going on a wild road trip. They're at least BFFs, but the video strongly implies they're also lovers. It just won't ever go all the way there. The pair roam around a wrecking yard and smash up old cars, take a swim in someone's pool, hoon around in their car and probably have sex. It's like Thelma and Louise without motivation, and feels more like a Glassons ad than a road movie. The final scene, with their car set ablaze, is the least interesting part of the video.
Director: Liam Bachler