An ode to Courtenay Cox, an emo ending, round and round she goes, Wellington dress-ups, a sausage sizzle, the universality of music, and surf is up.
Devolo "Rocker Girl" – missing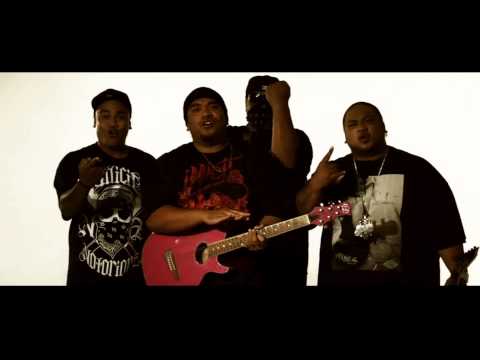 "Rocker Girl" is credited to Devolo, but it's essentially a Deceptikonz track, devoted to women who like rock. And it's a bit cringe. The Glassons "drummer" ad felt like a more authentic depiction of women in rock than this video. Then there's Mareko's rap, where he says he wants "Rock girl, hot girl, Courtney Cox, rock girl." Wait, does he actually mean Monica from Friends or is he thinking of actual legendary rock chick Courtney Love? Or maybe he's thinking of when Courteney Cox played a girl who gets on stage with Bruce Springsteen in the "Dancing in the Dark" video. Well, whatever the intention, it is curious to view female rock through a hip hop lens.
Note: This video was hosted on a French video site, however it has since been removed.
Director: Ivan Slavov
Nga Taonga Sound & Vision
False Start "Children of the Night"
"Children of the Night" was False Start's final funded video, with the band announcing their split in 2010 at around the same time as cool teens stopped dying their hair black. The video looks cheap – or at least cheaper than what I'd expect to see from a band nine videos in. As big and ambitious as the song sounds, the video has traded rock energy for smudgy eyeliner, dramatic camera looks, and attempted sexual tension. So yeah, it doesn't work.
Director: Rajiv Raj
Falter "Out of Control"
The "Out of Control" video was their eighth and final funded video, over a six-year period, suggesting there was some sort of big transition in the late '00s that saw emo-pop bands call it a day. The video is based around a roulette table, with some casino cliches (a cowboy, a Hunter S Thompson, a nerd in a suit, and a cool dude in a suit) gathered around the table along with some manic spectators who crazily cheer whenever anyone wins anything. We also see the band rocking out, with the casino tables standing up behind them as decoration – that is, the kind of decoration that a rugby club uses for their casino fundraiser evening.
Director: Dave Thomson, Simon Hughes
Nga Taonga Sound & Vision
Fly My Pretties "Beat Repeat"
Fly My Pretties might be a New Zealand-wide music collective, by the idea of gathering a slightly too big collection of musicians wearing fancy dress is so Wellington. "Beat Repeat" has lead vocals by Anna Coddington and captures her and her fancily dressed bandmates in a live show as part of the A Story tour of New Zealand.
For Da Grind featuring Nesian Mystik "Remember"
"Remember" opens with the lads watching Dei Hamo's "Lyka Teen" video and concluding that if he has NZ On Air funding (#meta), they must have missed out, and even claim that they didn't even apply for it. But never mind – the song is about making do when you haven't got a lot and that's what they do. They host a sausage sizzle down at the local car wash, invite Nesian Mystik, and just have a big street party. Well, that's the best fake non-funded video I've seen.
Note: this video is blocked to viewers in Australia, the United States and Germany. And New Zealand, le sigh.
Director: Greg Buckley
Frisko featuring Aaradhna "Music (Makes the World Go Round)"
"Music (Makes the World Go Round)" celebrates the universality of music, and the video goes to the effort of showing some sped-up scenes of world cities at night, somewhat reminiscent of Madonna's "Ray of Light" video. Otherwise, the New Zealand entertainers behind this song can be found in a black studio space. The electronic sound that had infiltrated hip hop is signified by Aaradhna rocking some alarmingly high club kid hair. Also, the song contains the best lyric comparing someone to God but not fully committing to it: "You're sort of like a saviour, similar to the one that made us".
Director: Ivan Slavov
Nga Taonga Sound & Vision
I Am Giant "Neon Sunrise"
The "Neon Sunrise" video features world champion surfer Kelly Slater (!!!), which seems to have come from I Am Giant being brand ambassadors for Quiksilver. But the surfing champ never appears in the same scenes as I Am Giant. Instead Slater's away surfing while the band are performing on an empty west coast beach, which makes the surfing scenes feel shoehorned in. (Btw, this led me to discover that Kelly Slater has his own music career, his take on the Jack Johnson style.)
Director: Tim van Dammen
Nga Taonga Sound & Vision