Boys and knives, wet wet water, rough rock, storage locker war, pulp fiction.
The Checks "Candyman Shimmer"
"Candyman Shimmer" is based around a young woman celebrating her birthday. A succession of visitors come and bring her gifts, except the cute boy – he won't stop by. But who needs boys when you have a box full of knives? Meanwhile, the Checks turn up to the party, with the Microsoft 1978 staff photo aesthetic. From then on, it turns into a standard freaky friends video, with the Checks, the birthday girl and the freaky friends enjoying an outdoor gig, with the ground quickly turning to mud. Ain't no shimmer here.
Director: Tim van Dammen
The Earlybirds "I Can't Live Without You"
The "I Can't Live Without You" video gets wet. The band are regularly drenched with water, but because it's a Tim van Dammen video, it's all shot very artfully (courtesy of DP Tim Flower) and it doesn't come across as a "torture the band" video. And why water? Well, it's a good enough example of something that we can't live without.
Director: Tim van Dammen
The Tutts "Rhythm Child"
This is the last of the Tutts' funded videos and it looks surprisingly cheap. It involves grainy live footage of the band and black and white footage of the band performing the song in a studio. The song itself even sounds underproduced, like a demo. It's not until the last 30 seconds of the video, when there's some cool rotating footage of the band standing outside, that the quality matches the usual standard.
Director: Bret Nichols
The Upbeats featuring Ned Worboys "Bones" – missing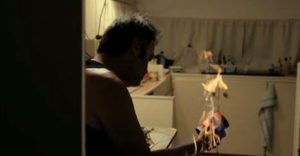 I found a link to the "Bones" video, but it had since been made private. All that's left is this screen shot, showing a man holding a flaming object. How intriguing!
Director: Jacob Thomas
Nga Taonga Sound & Vision
Tokyo Street Gang "Spellbound"
"Spellbound" serves 1980s-style electronica, musing about relationship turmoil over cool rhythms. But the video goes in an unexpected direction. It follows a hitman-looking guy who wanders around a storage facility. In every locker he enters, he shoots up the romantic contents of the space. With his paintball gun, he blasts balloons, a wedding cake, a bed and heart-shaped dishes. Yeah, down with love! And hey, I've seen Storage Wars. He could definitely get some decent cash for that bed.
Director: Simon Pound
True Lovers "Death Threat"
While Jimmy from The D4 formed Luger Boa, his bandmate Dion moved to New York and formed True Lovers, and here they are with "Death Threat". It feels straight outta 1995, with both the song and the video coming across as the work of someone who has just seen Pulp Fiction and thinks it's quite cool. Maybe that's the problem – it's all trying so hard to be all cool and edgy that it ends up feeling more like a game of dress-ups.
Director: Mike McCarthy