Jason's in Sydney, Boh's in Auckland, Andy's in London, the Misfits are all around the world, and there's a book.

Misfits of Science "Mama, I'm a Misfit"
The video description says this song was the first single off MOS's second album, but that just ended up being a three-track EP released in 2008. "Mama, I'm a Misfit" is ambitious, an animated universe of great cities of the world – London, New York, Paris, and starting with Sydney. As the world is their stage, the Misfits fit right in wherever they are.
Directors: Nicolas Plaire, Blake Henshaw
My Life Story "What It's All About" – missing
The punk-pop band My Life Story has some more punk-pop. The group had won the Breakthrough Video award at the 2005 Juice TV Awards for their non-funded video "Falling Out". I don't know what, if anything, broke through, but this was a band that was so popular they released a live DVD. Here's the audio to "What's It All About".
Director: Ivan Slavov
Nga Taonga Sound & Vision
Opshop "Oxygen"
It looks like this video is set in Sydney. It starts in Manly, with brief shots of the band members, then it moves into the CBD, where the stars of the video are singer Jason and downtown Sydney. And that's all it is – Jason standing in front of various parts of urban Sydney. "I'm moving out my mind, Jason sings, "to a place more civilised." Oh really? Well, if u like Sydney so much, why don't u marry it?
Director: Adam Jones
Nga Taonga Sound & Vision
Stellar featuring Andy Lovegrove "For a While"
Boh is in Auckland, Andy is in London and the world is ending. The video is animated but based on live-action footage. It sees Boh and Andy hanging out by bodies of water in their hometowns (the Waitemata and the Thames), but soon ominous flocks of birds fly overhead and meteors come crashing to earth. But they are still united with the magic of song and/or CGI.
Director: Luke Sharpe
Nga Taonga Sound & Vision
The Electric Confectionaires "Sweet Tooth"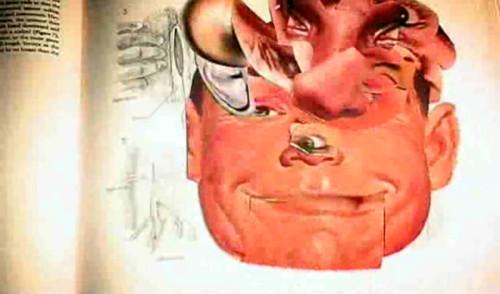 To watch this video, head over to Muzu.
Auckland teen band the Electric Confectionaires were the winners of the 2006 Rockquest. Their sound was very inspired by the Beatles, which seems to be a think when you're starting out. The "Sweet Tooth" video is a stop-motion animation, based on mid-20th century illustrations chopped up and wiggling over the pages of a text book. The version of the video on Muzu has no audio (?!) so it's hard to guess how the visuals fit with the image. It also means you can't hear how the singer pronounces "fairground" as "fear ground".