Pineapple romance, punk, war, ninjas and radiation ruling the nation.
Aaradhna "Down Time"
"Down Time" was Aaradhna's first solo release, after her guest appearance with Savage on "They Don't Know". It was also her highest charting single, but a mere hint of the greatness that was to come. The video sees Aaradhna falling for a cute boy who works at the local fruit shop. Yes, their eyes meet over a pineapple. It brings a lush tropical feeling to suburban Auckland.
Director: Sophie Findlay
Nga Taonga Sound & Vision
Bleeders "The Kill"
"The Kill" was the opening track and first single from the Bleeders' debut album, already showing a harder sound than previous singles. The video is based around a live performance. It looks staged for the shoot, but the audience seems to be all genuine Bleeders fans, a sign of the band's popularity. The camera goes everywhere, capturing the full dark, sweaty experience of the Bleeders live.
Director: Adam Jones
Nga Taonga Sound & Vision
Carly Binding "So Radiate"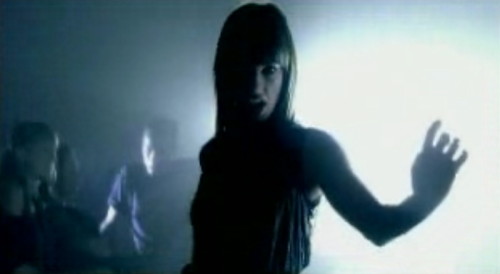 To watch this video, head over to Amplifier.
"So Radiate" is a great big MOR pop song, a cry to an absent lover. The video isn't quite as big as the song. It exists in a dark shadowy world which gives the song a sinister edge. There's also a making-of video, where Carly Binding and director Jessie Warn talk about the video shoot.
Director: Jesse Warn
Nga Taonga Sound & Vision
Cassette "High Pressure Crap"
This partially animated video was another recipient of the $1500 grant from Positively Wellington Business for producing the video in the Wellington region. The video uses old newsreel footage from World War II, sometimes with a few quirky handmade animations added. This is cut with black and white footage of the band.
Che Fu "Mysterious Vibe"
This video has a lot in common with Che Fu's earlier video for "Light Work". It tells a comic book story via subtitles. And like "Light Work", the video's visual demands constantly divert the attention of the viewer away from the song. Is it a cool ninja comic book story or a Che Fu video? It can't be both.
Director: Shane Mason