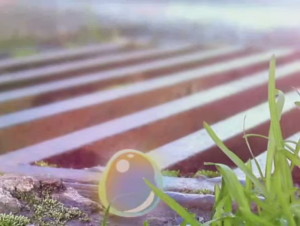 The one funded video of accomplished jazzman Mark de Clive-Lowe takes us down into a sewer. But it's a pretty one. The video opens with dreamy still shots of early morning Wellington. Amid all the concrete we find cute jellyfish-like creatures that are making their way to street drains.
Once they jump into the stormwater system, real-life Wellington is left behind and instead we enter a fantastical world, a cross between Hubble telescope footage and an endoscopy.
In places, the video actually looks and behaves a lot like the iTunes visualisation mode. I even played the song in iTunes and there was a lot of familiarity with the images. Maybe Mark de Clive-Lowe is going for the suburban stoner demographic.
The early scenes, with the blobs floating and jumping around Wellington, are the strongest. The rest of the video looks pretty, but there's less connection with the fully animated visuals. The song isn't especially in-your-face, but the video should be a bit more engaging than an iTunes visualisation.
Best bit: the guest cameo from Queen Victoria, in statue form.
Next… the climbing of every mountain.