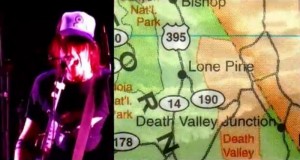 "Road Trip" was the follow-up single to "Walkie Talkie Man", Steriogram's attempted breakout single that came with a great big fancy music video directed by Michel Gondry. "Road Trip" was somewhat less ambitious than the yarn-based universe, but still a good portrait of Steriogram in their attempt to make it overseas.
The song is an honest account of life on the road – the mix of sleep deprivation, boredom, having no money, hunger and – oh yeah – "we're doing what we love and we love what we're doing". The video is along for the ride, but doesn't dwell too much on those less fun aspects. As director Andrew Morton explains on YouTube, "I went on the road with Steriogram for three months back in 2004. We went to Tokyo, Toronto, and all through the States multiple times. It was an insane amount of fun and killer times. This video is a compile of those travels."
There are a few shots of the band napping in vans and breakdancing in hotel rooms, but most of the video is based around live shows. Despite the tedium of the van, it seems Steriogram could turn up to a venue, put on a show and get the crowd moving.
It's a really effective live video. They're not faking audience size or enthusiasm – here's a young New Zealand band who are working their arses off on tour. They didn't quite manage to establish themselves in America, but this video is a good enough record of that year of hard work.
Best bit: the end shot of a guitar being tossed up in the air, with no follow-through on the comedown.
Director: Andrew Morton
Ngā Taonga Sound & Vision
Next… summertime gladness.