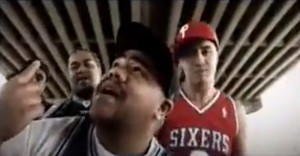 After having five videos funded from their debut album, Nesian Mystik return with the first track off their follow-up album Freshman (which, being their second album, technically should be Sophomore, but that doesn't sound as cool).
Like a lot of the group's songs, this one is about Nesian Mystik, but unlike their previous songs, "What's Next?" has a harder edge with some of the lyrics getting bleeped in the video. A threat that they'll "Mimi [urinate] on you amateurs, just so ya'll can feel our flow" has "mimi" removed, to avoid any bilingual offence.
But that's nothing compared to this line:
I hate to bring this up like an eating disorder
But you could never touch on this like molesting your daughter
The "molesting your daughter" bit is bleeped. Damn, this trumps Split Enz's "I'm lost at sea and I'm an amputee" line from "Shark Attack" as the worst couplet in New Zealand music ever. Far out. Just because it rhymes doesn't mean you have to use it.
So, with Nesian Mystik being bad boys, how does the music video show this? It puts them in an underground car park, in a nighttime cityscape, and under the Victoria Park overpass. The overpass looks all gritty and urban on camera, but if they took a few steps to the left they'd be standing in a pretty cricket oval, surrounded by splendid London plane trees.
Yeah, the video is trying very hard to be hard and edgy, but the poppiness of the song (the chorus is killer) and the niceness of the group that still comes across makes it hard to believe that they are the sort of dudes who'd be found hanging around a dark car park, and all that implies.
Best bit: the song's opening, simple Spanish guitar played outside a suburban house.
Director: Mark Tretheway
Ngā Taonga Sound & Vision
Next… space junk, space junk.