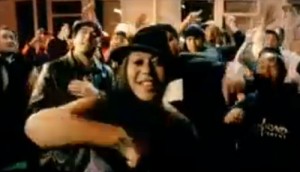 This song reminds me of the golden days of M2, TVNZ's after-hours weekend music video show. Back when a premiere of a local video would be treated as a grand royal event. And it's helps when it's a really cool, fun video like "Highway".
The video opens on a sunny day at a remote train station. DJ CXL finds himself taunted by a ukulele-playing kid. "He wants to battle you, bro!" CXL ignores the kid and heads off along the train tracks on foot, but the kid follows.
It seems CXL is trying to get to a house party that Nemesis is holding at a state house in Orakei. The kid jumps a passing boxcar (in a slow speed but nonetheless impressive stunt), leaving CXL along with the kid's ukulele.
Meanwhile, Patriarch takes the much easier route – he's driving, with a small child in the passenger seat and eventually picks up an exhausted CXL. Finally the trio are reunited and the party takes off, complete with the Fat Albert "nah nah nah" referencing middle-eight, only to have Savage accidentally cut the power. Oh, Savage! Then it's time for the turntable-ukulele duel, and the party goes on into the night.
"Highway" was released as a double A-side with "Watching You", which also had a music video directed by Sophie Findlay. Both videos are ambitious and have a fun sense of style an theatricality – and not every group can pull off something like this.
Best bit: the ukulele kid, equal parts creepy and cute.
Note: the video was on YouTube, but it's since been taken down. Here it is via a random video site.
Director: Sophie Findlay
Ngā Taonga Sound & Vision
Next… a double up.