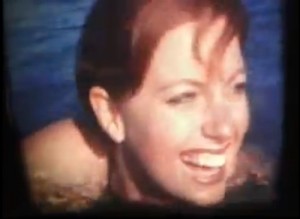 The "Maybe Tomorrow" video takes us deep into the world of Goldenhorse at the peak of their winery-tour powers. "Maybe Tomorrow" was their highest charting single – peaking at number 10, and the video is their straightest. There are no vampires or caravan curiosities. Instead the video is just Goldenhorse being elegant an New Zealand pop band.
It's shot in grainy old film (I don't know much about film formats, but I'm going to guess it's Super 8). It gives it a cosy, nostalgic feeling, as if this song has just always been around.
We see Goldenhorse performing at a small venue. Rather than bold rock lighting, their stage illumination is provided by the glow of domestic lamps. (You know who else had tons of lamps in their music video? The Holiday Makers.) Sometimes it has a sophisticated ambience, other times it's just a bit gloomy.
We also join the band down at the beach, where they're frolicking in the sea. It's very New Zealand – or at least how homesick Kiwis on their OE, stuck indoors on a miserable winter's day in England like to imagine things are back home.
It's a lovely video for a lovely song, and normally that's where I'd end thing. But a couple of years later – 2004 – the world of "Maybe Tomorrow" got more interesting. First the song was used in an ad for instant jelly, running with the feeling of New Zealand outdoorsy joy. But then a few years after – around 2006 – a second video was made for the song, this time without NZ On Air funding. And this time it was back to the slightly askew world of the earlier Goldenhorse video.
This time Kirsten plays a perfect housewife who is preparing snacks in her kitchen. We also see the rest of the band playing the song in a dark room. It turns out – gasp! – Kirsten is holding the band captive in her house. Was this dark video treatment a reaction against the very nice world of the earlier video and the even nicer world of the jelly ad? I like to think so – an inherent weirdness in the band that cannot be suppressed.
Best bit: Kirsten's head-bang finale.
Director: Rachel Davies
Ngā Taonga Sound & Vision
Next… fish and chips as a metaphor.