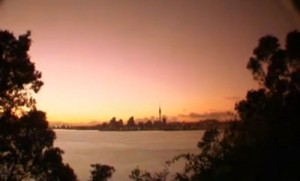 In a way "Morning Light" was a breakout track for Concord Dawn. I remember at the time people who'd never previously listened to drum and bass were in love with its atmospheric charms and the emotion brought into a drum n bass track.
The video takes its inspiration from the lyrical mention of morning light, but the video is primarily based around the tempo and dynamics of the music, as well as the city of Auckland.
The video opens with pretty dawn scenes of the Auckland skyline, an orange sun rising over the dark city silhouette. The sun brightens and clouds float across the sky and it's all kind of abstract.
But as soon as the big drum and bass bit kicks in, we're down on the ground – the corner of Queen Street and Victoria Street, to be precise. Supergroove paid a visit to the corner in 1994 for "Sitting Inside My Head", but they took a chilled out, slow-mo walk across the road. Concord Dawn's experience is sped-up, capturing the hectic pace of the city.
Then we move onto the roads, with more sped-up action along the North-Western motorway. But this isn't just a random drive. This journey out west leads to Piha beach for a reflective pause as the sun sets.
Once night is there, we're off to a live gig, full of people dancing like they just don't care. With Concord Dawn not being the most visually interesting group to watch perform (two dudes hunched over equipment), it's a way of capturing the magic of their live shows without requiring them to fake it as big video stars.
Things conclude with some footage of the night sky, dark clouds ominously parting to reveal a full moon.
Best bit: the hoon along the North-Western – the traffic is good.
Next… after hours at the car dealer's.