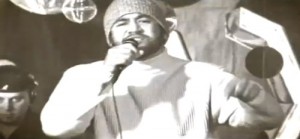 The "Saboteur" vid is a Tarantino-inspired outing, set in central Wellington. The action starts at the Marksman Motor Inn (just across the road from the Basin Reserve), with DJ Raw collecting King Kapisi for a gig. They cruise around Wellington in a vintage car where Kapisi takes a call on a chunky old Ericsson cellphone (but not old enough to be vintage). On the other end is Dave Fane, playing the "Samoan bar manager", who rants at the "Samoan emcee" and "Samoan turntablist" (everyone in this video gets labelled). The duo arrive at Bar Bodega in its old location, before it was shuffled along Willis Street to make way for the bypass.
Kapisi and Raw take to the stage and the bar soon fills up with (in order of arrival): a trance DJ and groupie, the West West Side Crew, the East Nor' East Side Crew, the XXXL Crew, fake ass DJs, a yakuza hit man, and undercover cops. So, that's a pretty good audience for a local act.
Unfortunately there's some tension between the West West Side and East Nor' East crews. But if they just stick to their respective sides of the club, everything should be ok. Unless the Nor' Easters are mad that the West Westers can get closer to the stage. But as Kapisi advises, "With that gangsta mentality, you sabotage yourself". The music seems to bring everyone together.
In the end the biggest trouble is caused by the Samoan bar manager. "Play some old skool," he impores, shoving an Abba LP at Raw. His request refused, he storms off in a huff, sabotaging things by pulling the plug on the gig.
From the old Ericsson to Bar Boedga, the "Saboteur" video feels like a postcard from the early '00s, but it doesn't feel stuck in that time. You never know when sabotage might happen.
Best bit: the trendy '00s club threads of the undercover cops.
Director: King Kapisi
Ngā Taonga Sound & Vision
Next… busking wars.