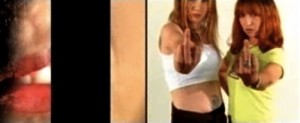 Fuce were a Christchurch rock band and "Peacekeeper" is a tense, ambient piece with great percussion. The video is simple, with shots of the band and their freaky friends hanging out in a white studio. A guy eats a banana, two girls flip off the camera, a hairy guy rants, a kid writes on glass and a dreadlocked chick holds a sparkler to the relaxing music of Fuce.
"Peacekeeper" could just be another pleasant video from 2000, but the passing of time has given an eerie edge to the video. One of the freaky friends holds up a mock front page for The Press, Christchurch's morning paper. The headline reads "EARTHQUAKES FLOODS". Oh crap. Back then, those were things that didn't happen to Christchurch so the headline could be used for dramatic exaggeration. But in these post-earthquake days, it gives the video a strange tension.
At this point I was feeling a little bummed out. Fortunately the video got a little goth, with the band dressed in black suits playing the song in a black studio, so in 2013 it was an opportunity to feel a little mopey mournful about Christchurch. But it wasn't all retrospective natural disaster grief. I keep thinking back to the scene of a punk couple and a dreadlocked guy gleefully dancing. And hey, if they can have a good time, so can I.
Best bit: the awesome millennium hair of the two girls giving the finger.
Next… taking over the world.