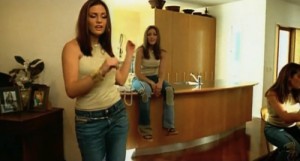 After having some success with his own solo career, Matty J Ruys then turned his talents to a behind-the-scenes role as a pop svengali. He needed a tuneful teen to transform into a popstar and discovered 17-year-old jeans shop worker Kaleena McNabb. She was transformed into the popstar K'Lee, though now in her role as a Mai FM DJ she goes by the more mature handle K-Lee.
K'Lee had a run of four top-20 songs, and was apparently the first female New Zealand artist to have four top-20 singles off one album. There was always a bit of backlash from people who felt that K'Lee was a bit rubbish, mainly due to being an attractive young pop singer who was suddenly enjoying hit singles without having "paid her dues". Woteva. She made fun pop. It makes people happy. It still makes me happy. So let's delve into the first video of K'Lee.
"Broken Wings" is a cover of the 1985 Mr Mister song. It's actually way better than the original, with fresh beats, oriental violin motifs and an R&B break in the middle. There's an article at NZ Musician that looks at the production of the song.
There's some money behind this video. Directed by Greg Riwai (last seen here with Salmonella Dub's "Johnny"), it's shot in a fancy house and uses fancy digital effects, so Universal were obviously wanting to launch K'Lee with maximum impact as a serious popstress.
The video begins with K'Lee phoning up her ex-boyfriend – and we see another woman sitting on his couch. All he manages is a "hello" before K'Lee hangs up. She's obviously a bit stressed, so goes over to her bedroom turntables and scratches away her sorrows. The camera slowly pans across and we discover there are two K'Lee – one scratching, the other sulking.
The rest of the video is basically multiple K'Lees mooching around the house. And it made me wonder. What if actually there were several K'Lees. What if one K'Lee started dating the guy, then the other ones wanted to get involved. And at first it was hilarious, like "The Parent Trap", but then some of the K'Lees got jealous, and the original one was like "Nuh-uh, he's mine!" And eventually the guy found out and was like "Screw this," leaving all the K'Lees mopey, depressed and single. Yep, that's plausible.
All in all, it's a perfectly good pop video for a good pop song. It seems strange thinking that there was once controversy around K'Lee, but it didn't stop the song making it to number two in the charts.
Best bit: when the pile of photos transform into doves.
Director: Greg Riwai
Ngā Taonga Sound & Vision
Next…warehouse party.