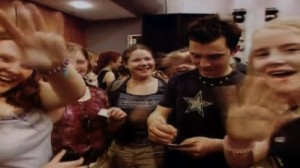 "Come on Down" doesn't really do it for me as a song – it's a fairly ordinary pop-rock ballad that sounds like one of those Christian pop songs that pretends to be about romance but is secretly about Jesus. But the video is much more interesting.
Much of it is tour footage, capturing Zed during their peak, touring New Zealand and playing to packed out venues full of adoring teen fans. However, the video starts with the band playing amongst snowy mountains, which turns out to be a painted backdrop in a hall.
We also see Zed mucking around on the road. There they running up Baldwin Street in Dunedin, signing autographs, visiting a radio station, and generally just having fun. But the serious tone of the song casts a shadow on all these antics, and it feels like something awful is about to happen.
Awful like artistic black and white footage of the band playing on a beach? The tone of the video is all over the place. It feels like two separate videos that have been edited together – serious Zed meets fun Zed. And each bit cancels out the other, so it ends up feeling really messy.
And then there's the strange behind-the-scenes shot of the clapperboard with the bottom part blurred out. Did the director and DOP not want their names associated with the video? I still have a lot of affection for Zed, but it's a strange moment when I'm finding myself with newfound respect for the Feelers' life-on-tour "Pull the Strings" video.
Best bit: Andy twisting his whiteboy dreads.