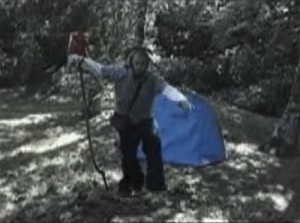 "Baggy Trousers" is an ode to large pantaloons, but rather than just focus on clothing, the video is styled as a parody of "The Blair Witch Project". The groundbreaking horror film was released in New Zealand in December 1999, so it must have been very fresh in the minds of Dark Tower and director David Stubbs when it came to make their new music video.
The video starts with a title card, telling of "three baggily panted rap musicians" who went missing while on a music video shoot. We're then treated to the "found" footage of their adventure.
The trio arrive in the "Dark Tower Mystery Machine" (hey, you might as well cram in those pop culture references) and they set off into the woods, kitted out with backpacks and baggy trousers. You know, baggy trousers aren't really all that practical for a bush walk. The low hemlines are going to drag on the ground and get all dirty.
The group continue to explore, but there's no sign of any strange goings-on. They're content to revel in their baggy-trouseredness. A strange bundle of sticks is no cause for alarm. It turns out there's a mic in the bundle, perfect for busting out some dope rhymes.
Just like in the film, the trio discover an old house in the woods. Could the Blair Witch be found inside? No? What about the Baggy Witch? No? Okay, how about peeing against a wall in a parody of the final scenes of the Blair Witch? Ah, there we go.
Best bit: the closing credits alarmingly thanking Search and Rescue and the Westpac Rescue Helicopter.
Director: David Stubbs
Ngā Taonga Sound & Vision
Next… sequins, eye shadow and glamour.