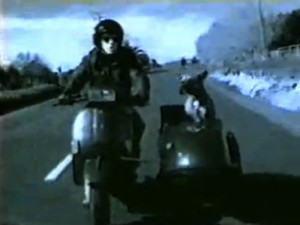 Dog poo. Rounding out the Mutton Birds' dozen NZ On Air-funded videos, "As Close As This" opens with dog poo. It makes a bit more sense when it's revealed that the video is partly shot from a dog's perspective, so there's the dog running around a park, weeing up against a tree, sniffing another dog's poo. But still. Dog poo in a music video. This never happened in the early days with the glorious Fane Flaws-directed vids.
Having been based in the UK, it's the first Mutton Birds video in about five years to be shot in New Zealand. It's also a solo Don video, which is probably the result of the other three-quarters of the band still living in the UK.
The video imagery is rather disparate, including Don cruising along in a motorcycle with the dog in a side carriage, the dog inspecting some road kill, and black and white animated footage of Don with Warhol-style colour that gives him a drag queen look. The dog also has a wander in a K Road sex shop and it makes sure to have a good look at a display of fake boobs, as dogs do.
By the time the dog is drinking water out of a filthy toilet, I started to wonder if everyone had just given up. There is too much poo in this video. It doesn't seem like a music video for a band who wants to be successful. It's like a deliberate attempt to undersell the song, ensuring the band wouldn't be burdened with popularity and the demands of touring.
Perhaps they got their wish. The song didn't chart and the Mutton Birds didn't release any more studio albums, eventually calling it a day in 2002.
Best bit: faux FM radio DJs Greg and Phil, who are happy to play the track on their station.
Director: Greg Wood
Ngā Taonga Sound & Vision
Bonus: Here's a piece from a 1999 episode of "Holmes", where the Mutton Birds are profiled on their return to New Zealand, full of cautious hope for the future.
Next… doing it to everyone.