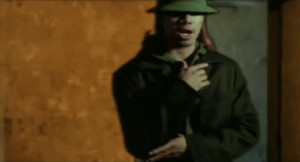 The IFC deliver some smooth R&B, a perfect seduction soundtrack. The group were formed by producer Richie Campbell, previous of Ardijah. And that's about all I can find about them – a short but smooth career.
The very first beat of the song starts with a "yeah-ee-eh" that momentarily tricks my brain into thinking it's the opening of the "Neighbours" theme tune. That's unfortunate but the song soon leaves that behind, with a combo of smooth vocals and lightning fast rapping.
The video takes place in an old empty warehouse. Except everyone's there through the magic of green screen. There's no pretence that it's anything but green screen. It's used as a layer, with rappers and dancers fading in and out over the top.
The video is grittier than the groove the song creates. Rather than a smooth urban romance, the video makes things feel like the slightly awkward seduction efforts of young New Zealanders.
Even the dancers feel less like video booty girls and more like a couple of local fitness enthusiast girls who just happened to end up in this video. There's odd interaction between the guys and the girls, like the guys are too cool to be smooth seduction dudes. And the two dancers really seem to really be into each other more than the boys. (This sort of confusion would never happen in a Maree Sheehan video.)
Best bit: the super low bucket hat of one of the Company. Take that, LL!
Next… he was a skater boy.