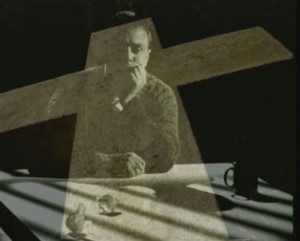 Even before I watched this video, I was intrigued by this comment on YouTube. "Warners hated this video. I'm not sure it ever actually went to air." Well, it would have gone to air at least once to fulfill the NZOA funding obligations, but was it really as uncommercial as that comment seemed to suggest?
The song itself is intriguing. It's an upbeat, '60s-influenced pop rock song – something that Rikki Morris is very good at writing. But the lyrics are about really bad depression. Not just feeling a bit glum, but full-on, paralysingly shit depression.
The video is mostly black and white footage of Rikki in a black space singing the song and playing his guitar. Occasionally there are glimpses of a churchyard, gargoyles and crosses. But the poppy nature of the song means all the gothic imagry isn't too gloomy.
Occasionally we see some behind-the-scenes shots, glimpses of Rikki and the video crew in a studio. It's a reminder that what you see in the video is, at least in some respect, showbiz.
No doubt a more commercial video could have been made, but I like this one. And looking back, 15 years later, this video feels a lot less dated than other videos from this era.
Best bit: the black and white graveyard scenes, like a high school photography portfolio.
Next… a glamorous military commander.