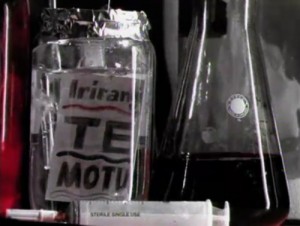 I know a bit about this video because in early 1996 – just as obsessed with music videos as I am now – I did a summer school course at Waikato Polytech on the art of music videos, run by the director of his video, Greg Page.
He'd made "All Different Things" a few months before. It was a hearty Hamilton effort, film in Metropolis Caffe on Victoria Street (Hamilton's cool '90s cafe)
and starred Inchworm frontman Justin Harris.
Throw don't appear in the video because by this stage they'd become a studio-only band. So rather than use claymation, Greg turned the band into monsters, making an alterno retelling of the Frankenstein story.
The monsters were also the creation of Greg, and some of his paintings in a similar style can be seen around the lab/cafe. The video gets the emotion right, with a perfect combination of sweet and sinister.
This video also gets to be historically significant because it's the very first video to have a customised NZ On Air logo. Rather than superimposing the graphic, it was instead incorporated into the video, drawn on cardboard in a jar full of a mysterious liquid.
Best bit: the reassurance that cool stuff happens in Hamilton.
Director: Greg Page
Ngā Taonga Sound & Vision
Next… one sweet lover.