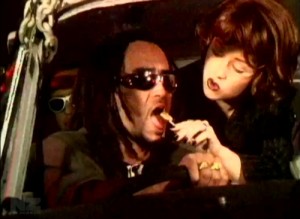 First, let's watch the original "Cruise Control" video from 1991. It's not hard to see why some Headless Chickens fans didn't like Fiona having joined their favourite band. It's like light vs dark, good vs evil. The sunny, cheery Fiona vs the gloomy goth Chris. But as it happened, "Cruise Control" was the gateway drug for my love of the Chooks.
A few years later it was remixed. The problematic Shona Laing sample was removed, Fiona's vocals double-tracked, and most of Chris' rap disappeared. It was a heavenly pop hit for the Australian market, with the video cheekily funded by NZ On Air.
The band are hanging out in a car, with a bewigged Fiona playing a forlorn passenger. The rest of the band take turns driving, as well as playing cards, reading the newspaper, talking on giant cellphones, sucking on lollipops, and displaying a Knight Rider banner.
It feels like the Chickens are mocking the trappings of success, and acknowledging that sometimes things aren't always so happy.
Best bit: the establishing shot of Auckland, just to prove that they're actually on the (pretend) road.
Director: Jonathan Ogilvie
Ngā Taonga Sound & Vision
Next… the battle between goth and pop.